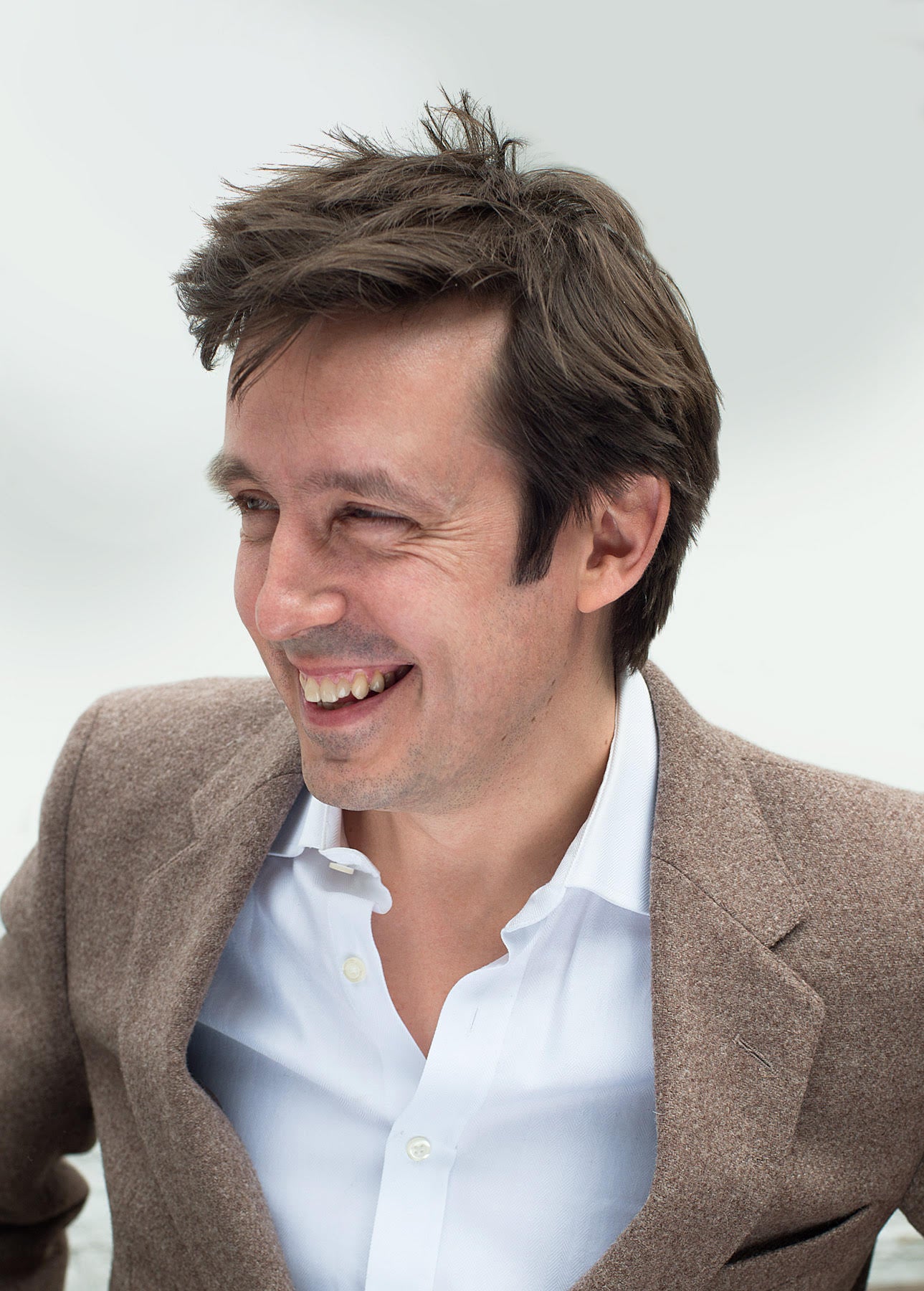 August 17, 2021
5 Minutes with Jesse Dunford Wood
Modern British cooking pioneer, Jesse Dunford Wood has accumulated a lifetime of experience, but still exudes the eagerness of the teen who began his career as a dishwasher in Edinburgh's The Witchery by the Castle. Although his cooking feels nostalgically and unmistakably British, his work has seen him travel across the globe, working alongside influential chefs such as Mark Best in Sydney and Charles Trotter in Chicago. However it was probably his exposure to British chefs Michael Caines, Rowley Leigh and Mark Hix that inspired him to open the National Dining Rooms at the National Gallery with Oliver Peyton. You may also recognise him from TV appearances such as Celebrity MasterChef and BBC's 'Truth About Food'.
Today the witty and passionate chef independently owns and runs Parlour, the all-day restaurant serving 'colourful British food' in West London's Kensal Rise, alongside his latest experiment and 'pandemic baby', Six Portland Road. We sat with Jesse to talk about how he got into cooking, his toughest critic and opening a business during the pandemic. 
What are your first memories of food?
My first memories of food are probably not very romantic. Spaghetti and ketchup at home. That's not cooking to me, well not these days anyway. If it was getting really luxurious, I sprinkled mature cheddar on top. My mother didn't have the time for beautiful cooking and my dad was not interested in it. Then I went to boarding school where I was fed three times a day and I never thought about how it came about or where it came from. Sometimes food in that environment can be just food to get you through the day. 
When I was let out into the world aged eighteen, I don't think I even knew how to cook pasta or boil rice. I decided to start cooking after seeing some amazing food in a glossy magazine. That was a bit of an epiphany for me: the alchemy of cooking five ingredients together in a bowl in a certain way and putting it in an oven… you can make magic. It's a far cry from spaghetti and ketchup and we've just moved on a few notches from that now. It's pretty incredible these days because my mother is probably the most natural cook I know and she can just throw food into a bowl and out comes the most amazing bread or a plum tart.
Did you always want to be a chef?
When I was younger I wanted to be a doctor, but then I did my work experience in A&E, which was... bloody hell, quite literally. I come from a very creative family, my dad is a painter and my grandmother is a sculptor so I decided to go to Edinburgh to study Graphic Design and Photography.
How old were you when you started working in a kitchen?
I went to Edinburgh three months early to get a job, find a house and settle in with my flatmates. I got a job washing dishes at The Witchery and got bitten by the restaurant bug pretty early on – it was somewhat performance based which I found it hugely exhilarating. I lived in a student flat, but I was cooking partridge and red mullet every night and hosting dinner parties and in the end, I didn't even start my degree. I think it was for the best – being an artist can be very solitary, my dad is the classic artist, he works alone in his studio whereas I enjoy working with people.
Greatest highlights of your career so far?
I've been lucky enough to work with some really incredible people. I've worked on the floor, as a waiter, and I've been a chef. It was really interesting going to work at my first ever high-end restaurant, Gidleigh Park in Devon, which has two Michelin stars. It was extremely high intensity with such detail orientated food - I loved it. Working in Sydney was also amazing. I didn't have a job or a house but within a week I was sorted because of the skills I'd acquired along the way. I also worked in a well-known restaurant in Chicago called Charlie Trotters which unfortunately doesn't exist anymore and then I had an incredible time waiting tables in a fancy New York restaurant called Balthazar. I was meeting lots of famous people - girls would give me their number when their boyfriends were in the toilet! It was like a whole new world had been opened to me – I learnt how to be confident in front of customers and how to interact with them.
Who is the most nerve wracking person you've cooked for?
My wife is a harsh critic to be honest, haha. She'll tell you fifteen things that are wrong with the meal, from the way the waiter was dressed, to the level of the music and the temperature of the room, the shape of the plate I've given her, the dressing on the salad, to the garnish on the lamb she didn't like...She's probably my harshest critic.
Who inspires you the most?
I like to see what my contemporaries are doing. I like to watch a lot of TV at 2 o'clock in the morning, because that's the best time and only time to do it!? I think Instagram can be really interesting - it's a real window into other people's worlds. I'm often stealing ideas, creating new versions of things and turning them into my own. I offer photographs and recipes and all sorts of aspects of what we do and I want people to help themselves to all of that. Knowledge is power and it's so nice to share what we do.
It's also been lovely cooking with my daughter. If I can make two portions of fish and chips in twenty minutes with my daughter from scratch, you can too!
How do you know when a dish is complete?
I force myself to be creative every Sunday evening, making new dishes, drawing pictures and presenting them to the team. I think it's really important to taste your own food, as obvious as that might sound. How is it texturally? How's the acidity? How's the balance? How does it fit within the menu? How does it fit within the building? How does it fit with the ethos of the business? How does it fit with the seasonality? How does it fit with the current mood?
It is quite tricky to do British seasonal cuisine on a weekly basis with enough substance, excitement and flair, but it's not impossible. I made a courgette flower dish yesterday which was really lovely. It had bulgur wheat, dried tomatoes and plant-based Creamy Oat Fraiche. You've got crunchy, you've got creaminess, you've got earthy, you've got the saltiness from the capers. It's about balance. If you taste it with your team, they'll all give you their opinion as well which is always worth listening to.
What vision did you have for Parlour when you first opened and have you fulfilled your expectations?
Yes, I have managed to fulfil my vision, but I'm constantly tinkering with it - something for every hour of the day, a place to take your new-born and your ailing granny. Local and vibrant - a place that exceeds expectations!
Like Sacred, you opened a business during the pandemic, Six Portland Road. Why did this feel like the right time for you?
I can't think of anything better?! I'm sitting in Six Portland Road right now which is actually a pandemic baby. There's a bit of war spirit about it. Part of the success of Parlour is that it managed to produce Portland Road. It's risky, but as I've written on the board over there, "fortune favours the brave". That's how I live my life - you've got to take risks. 
What's your guilty comfort food?
Gummy bear sweeties - I love Haribo!
Something you can't work without?
Lemons I couldn't live without. They can be used for everything sweet and sour, skin, juice and seasoning - they also keep forever outside a fridge.
If you could distil any ingredient, what would it be, remembering that sweetness, bitterness and colour don't distil over. 
I make a lot of ice-creams and we do arctic rolls, which are normally vanilla ice cream and raspberry jam and sponge, but we started going crazy with Malteser flavour and then really wild with Aquafresh, Montecristo cigar and Fisherman's Friend flavoured ones. All the subtle flavours of menthol, eucalyptus and liquorice.
One of our most essential flavours is Thai green curry. Now forget about prawns and the chicken and concentrate on the coconut, kaffir lime, sweet basil and hint of chilli - there's lots of beautiful flavour marriages going on there. So, I challenge Ian and the team to come up with some sort of concoction which represents Thai green curry, mixed into a beautiful long drink.
What is your favourite Sacred serve?
I enjoy the seasonal treat of Christmas Pudding Gin, the subtle spicing, fruity notes and sweetness, and I also love something as light and refreshing as the Rosehip Cup. It's great having a close relationship with Ian, Hilary and Alexander as you get drip fed all of the weird and wonderful things they're working on or thinking of working on. 
We get ridiculous things like deliveries of 80 kilos of peeled oranges which Sacred's donated after using the peels for gin, which meant that once we had grapefruit on the menu for about two weeks. I love the 'spirit' behind Sacred - always moving forward.