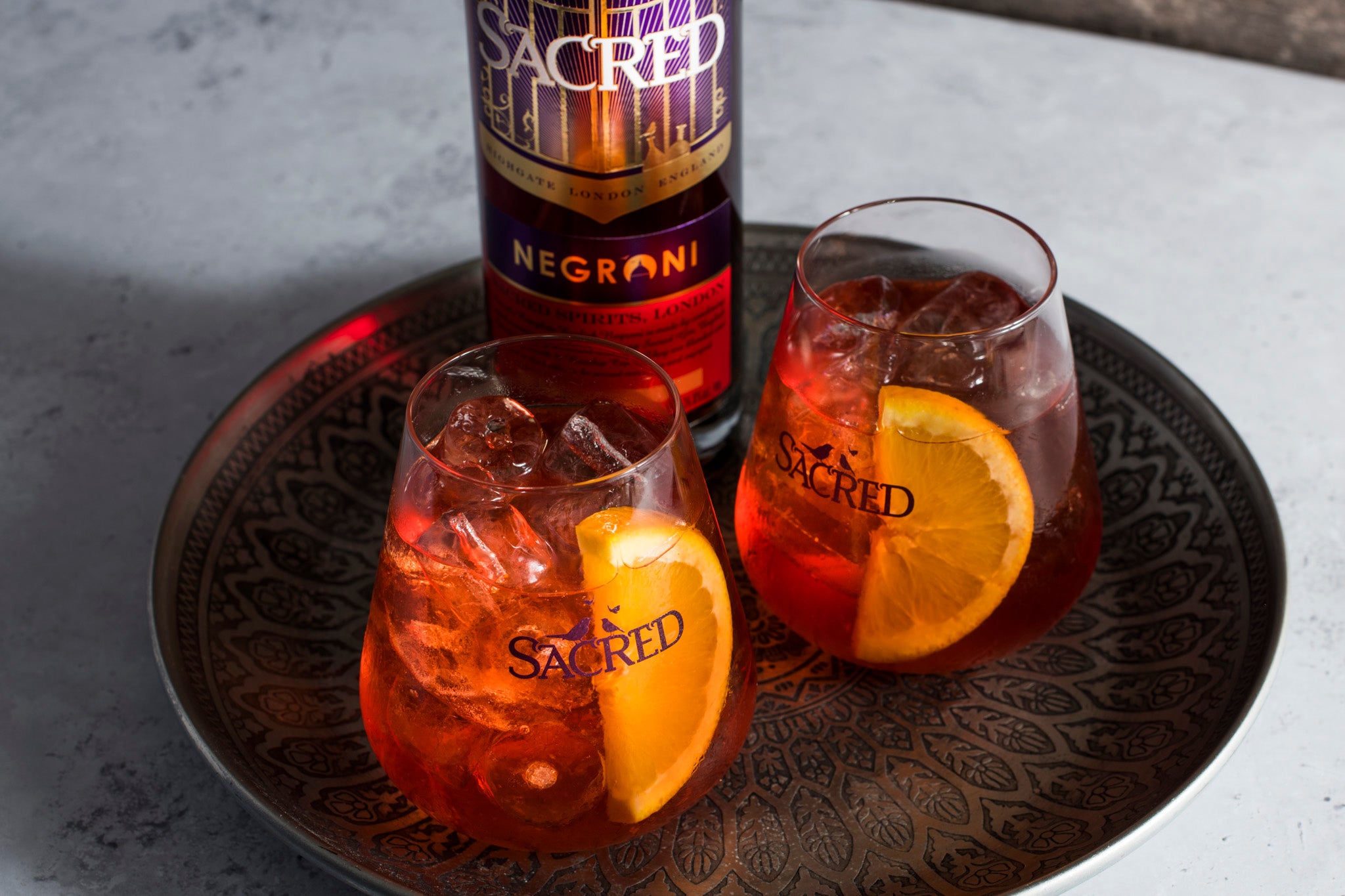 April 28, 2022
Bottled Cocktails: Bring The Bar Home
The Revelation of the Bottled Cocktail

We've all been there: the end of a the working (from home) day, and we really fancy a bar-quality cocktail. "But I've had a tiring day...oh well, I'll make the effort next week." What a shame to miss out on one of those delightful drinks at the end of the day to rejuvenate you! Fear not, Sacred's got you covered, with two delicious, world-class cocktails in bottles, ready to drink, to pour, to host: enter The Negroni and The Dry Martini.

So why the Negroni?

That ruby red, bittersweet taste of the Italian summer has taken the UK by storm over the past few years. Having been invented in Florence in 1919 and named after Count Camillo Negroni, the classic recipe is an updated version of the Americano cocktail.

Sacred's reinvention, The Complete English Negroni, calls for three all-natural ingredients: vacuum-distilled Sacred Gin, naturally bright red Rosehip Cup (made with rosehips, rhubarb, orange & ginger) and English Spiced Vermouth, which is made with English wine and was the original English vermouth. Mix them in equal measures with ice, or pour straight from the bottle (we've done the hard work for you!), garnish with a twist of orange.
"I like a Martini, two at most. Three, I'm under the table. Four, I'm under my host."
The immortal Dorothy Parker quote is quite the introduction to the world of the Martini. Revered globally, this blue chip cocktail is served in hotel bars from Austria to Zambia and everywhere in between. Our favourite edition is made by Alessandro Palazzi and his team at DUKES, St James'. He takes Sacred Gin directly from the freezer, rinses a frozen glass with Sacred English Dry Vermouth, and tops it with the gin. Finished with a twist of lemon, it really is a dream. Again, we've simplified things for you by bottling the whole affair - simply pour into a chilled glass straight from the freezer and top with a lemon twist for perfect Martinis every time!