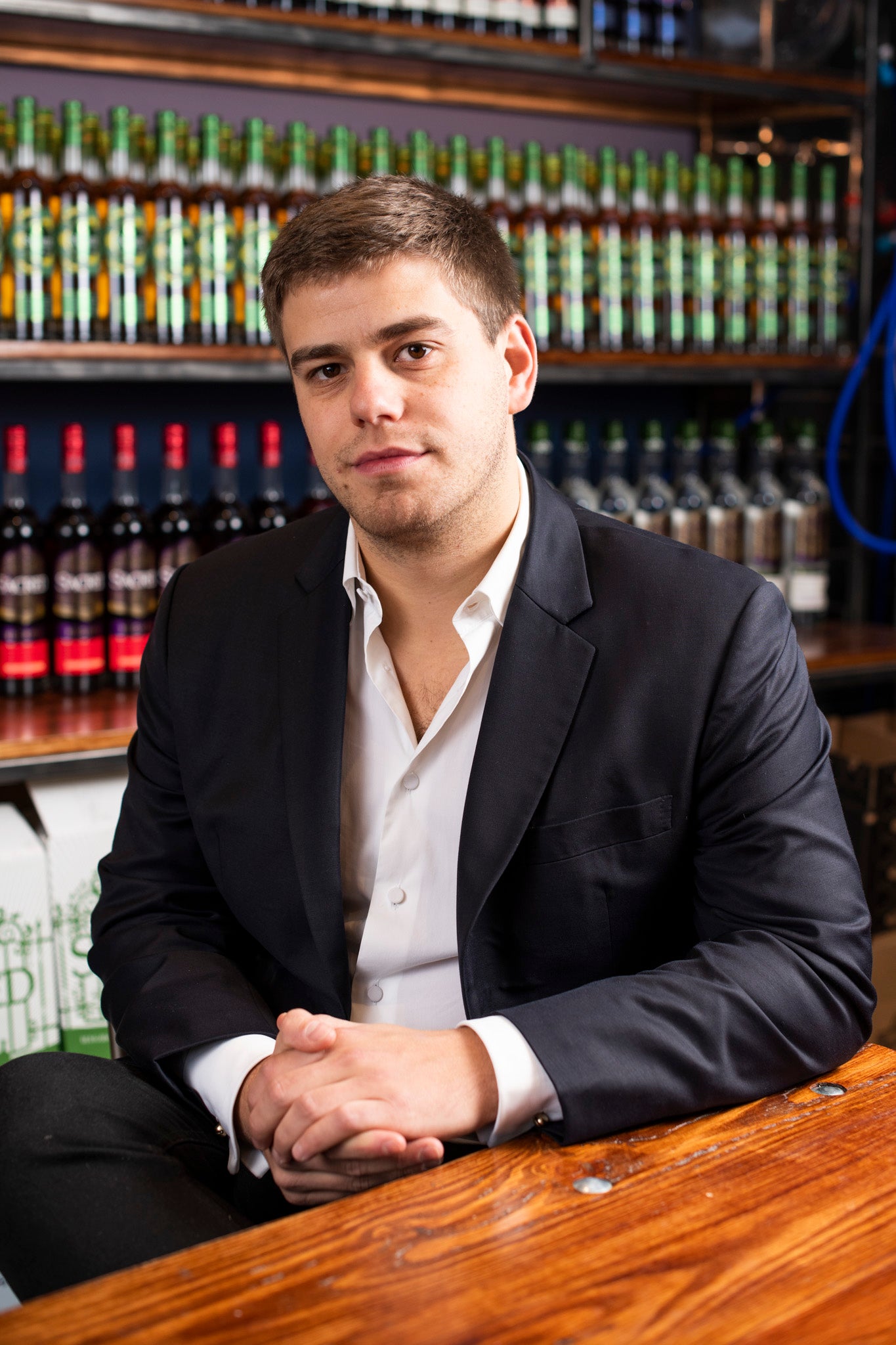 July 04, 2022
5 Minutes With: Alexander Jeffreys, Commercial Director at SACRED
Today marks Sacred's last day with our formidable Commercial Director, Alexander Jeffreys. He's dedicated seven years of his life to Sacred, so we thought we'd give him his well deserved five minutes of fame with a run down of his very best bits of Sacred.
How did you come to work for Sacred?
When I was at Bristol studying Chemistry, I picked up a job working behind the bar at a place called Red Light and another called The Doghouse. I started to become interested in spirits and particularly, as it was around 2014-15, gin. The gin category at this point was really booming. So when it came to the end of my second year, I was looking to get a summer job and began approaching some drinks companies. I received a Negroni gift set from my parents for Christmas which they had picked up in The Conran Shop on Marylebone High Street: that was Sacred Gin, Spiced Vermouth & Rosehip Cup in 20cl, we drank them on Christmas evening. With it came a postcard with an image of the original distillery on the front and as a chemist, seeing Ian's bizarre set-up and wanted to get in touch. When I reached out to Ian and Hilary, they said they didn't have any jobs going, but invited me to visit the distillery, so I turned up at their house on Talbot Road and spent hours with Ian talking about vacuum distillation, flavour and the science of drinks in general. At the end of it, they said they didn't have a job, but if I wanted to do something for Sacred part time in Bristol, there might be something there. I went to work for another brand for 3 months and returned to the Bristol bar scene at the beginning of my final year with a bag full of Sacred samples, with the intention to get us listed in as many places as possible. The rest is history.
Highlight working for the company?
There are too many to choose from to be honest. When I first started at Sacred, we used to turn up once a week to Ian and Hilary's house for team meetings on their sofa, after that we were based at our distillery & bar above The Star pub, then back to Ian and Hilary's, to a different house of Ian and Hilary's, our Highgate Distillery, and our new Shoreditch Bottle Shop & Tasting Room on Commercial Street - it's been quite the journey! I particularly enjoyed helping Sacred celebrate its 10th anniversary, a fantastic party at the Tate. I've enjoyed all of our product launches, but the launch of the Sacred Dry Martini in October 2021 particularly, that was a pet project of mine - I even bottled most of it by hand. Nothing beats the day though when an unmarked package turned up at Ian and Hilary's house with my name on it, which I thought could have been a letterbomb. I opened it to find a glass trophy for 'World's Best Vermouth' for our English Amber Vermouth. I realised what it was and brought everyone into the kitchen, and announced, "I have no idea who entered us, but we just won World's Best Vermouth" and Ian's eyes nearly literally popped out of his head, and in a rather high voice, he just said 'f***'!
Favourite product Sacred has produced?
My first love will always be our classic - Sacred Gin. It was the first product I tasted, and I still believe to this day that it's the best gin on the planet. I love it in Martinis, especially DUKES style. Aside from that, I remember the day that English Amber Vermouth arrived in the post with a note from Ian saying it was a new product in the making. One of my housemates, who didn't really like anything beyond cheap lager, took a sip, we looked at one another, took another sip and proceeded to finish off the whole bottle in a couple of hours. I think that is one of the best products to come out of any distillery to date. I think we were way ahead of the curve with our bottled cocktails, the Bottle-Aged Negroni has been around for years and is a firm favourite on- and off-trade and, well, you know my feelings about our Dry Martini. However, the most special place in my heart belongs to our Old Tom Gin. Along with Ian and Siobhan, that was the first product which I was involved in the development of. Adding vacuum distilled orange peels moments before bottling, I believe was the reason it won World's Best Old Tom in 2019. I'll always be really proud of it.
What are you most excited about for Sacred in the future?
I think this is a really exciting time for Sacred. We've been working really really hard on pushing the company to the absolute forefront of sustainability. We have a really strong starting point with vacuum distillation, sustainable by design. In the last few years we've been focusing on our holistic impact. Hopefully in the next few months, Sacred will certify as B Corp, another passion project of mine which I've been working on since the very start of the pandemic. I think the company really embodies the values of the B Corp organisation and it's the correct direction most companies should be moving in. We have two hugely exciting projects currently in development which have taken up my last few months. One of them is our development of our miniature bottles which are available in our shops and will be popping up in collaboration with an extremely exciting and well-known brand in the near future. The other is a really big secret that I cannot wait for everyone to see. I wish I could tell you more… I hope that that project will be a part of my lasting legacy at Sacred.
Funniest memory at Sacred?
There are definitely a few. Some are actually funny and some are situations where all you can do is laugh. I've ended up traipsing through fields in the middle of a food and drink festival with a trolley full of cases of Sacred Gin with a flat tyre. It certainly wasn't funny at the time, but gave the team a good few laughs at my expense. I think the funniest one was the day I turned up to Ian and Hilary's for a meeting and Ian walked in with two vacuum sealed bags, one filled with something shrivelled and green and the other white powder, and I thought, yep, he's totally lost the plot now. Turns out it was fig leaves and clay to distil, a lot less dramatic than we all thought.
Quick fire round:
Favourite gin for a G&T?
Coriander Gin
Summer beveragino?
Amber Vermouth & Tonic
Winter warmer?
Orange Whisky Liqueur on the rocks
Which Sacred spirit will you never get tired of?
Sacred Gin - it has to be
Favourite Sacred Cocktail?
A Negroni
Any final words?
It's difficult to distil so much into a few words. When I joined Sacred I was a student who had only had a couple of jobs before. Sacred was just two of us in Ian and Hilary's house and in the last 7 years, I've worked with some really great people, I was able to use my degree on the distilling side of things, I took an MBA, launched 14 products to market, brought a Champagne brand over to the UK, managed to travel around to quite a few countries too, lived and worked through a pandemic, built a website for Sacred, opened two shops and now it all comes down to one last day and having some drinks with the team and then off I go. I'm very sad to leave, but Sacred will always have a special place in my heart. I want to thank everyone I've worked with and all our amazing customers for making my time at Sacred so great.
To celebrate not having to put up with me any more, Sacred are offering 15% off on the website - code BYEAJ - try the Amber Vermouth, trust me!